CONSULTATION
800 401-6608
Security Guard Services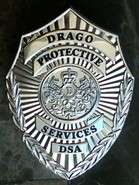 In addition to our Executive Protection Division, Drago Protective Services, has an Upscale Uniformed Security Guard Division in Naples Florida; which is unlike any other static security company throughout the industry.
Our Naples Security Guard Services offer Executive Protection styled security to our clients which include, but are not limited to: Government Facilities, Hospitals, Power Plants and Industrial Facilities, Corporate Facilities, Estate Homes and Properties, Estate Communities, High Rise Condominiums, Upscale Homeowners Associations, Property Management Companies, Hotels, Country Clubs, and clients that demand a higher level of specialized security guard services in Naples; which unfortunately, they are not presently receiving from their current security guards, security guard companies, or other Naples security companies.
Additionally, Drago Protective Services, ensures that every DSA (Detail Security Advisor) employed by our firm as Naples security officers hold and maintain the proper certification(s) and licensing(s) that are mandated and/or required by local, state, and/or federal law.
Our firm's Uniformed Security Officers are supervised, operate, and are managed with the same level of commitment and professionalism as our Executive Protection Division. Moreover, it mirrors the same level of service that our Executive Protection Division provides our clients and protectees.
Every DSA assigned to our Uniformed Security Division undergoes the same extensive scrutiny that our Executive Protection Division undergoes. Each DSA is selected based on training, experience, and background, which is primarily derived from the Law Enforcement, Military, and the Security Industry. This is why our firm is today's foremost leading Naples Security Company.
Security Agency B-1700028